Most people would agree that anger and rage are not the best emotions to hang onto. Laughter, joy, pleasure, empathy, peace, and appreciation are much healthier and will make you happier in the short and long run. How do we get there? What do you do when those dark, negative feelings begin to surface?
Your Belief System
I'm fairly cynical about just about everything. I was taught that it is important to be a critical thinker at all times. However, there is one thing that I truly believe in and there is no proof that it really exists and that thing is:
kar‧ma noun 1 the belief that all the good and bad things that you do in this life affect how good or bad your future lives will be, according to the Hindu and Buddhist religions
2 informal the feeling that you get from a person, place, or action good/bad karma
Yes, I am a true believer. I have this gut feeling that the universe offers us complete balance: the yin and the yang, the peaks and the valleys, positive and negative energy; you get the picture. Realistically, I am aware that some people get away with all sorts of things without ever being held accountable. Perhaps I am wrong about that; perhaps they are somehow at some time, held accountable and we're just not aware of it.
Belief in karma helps me sleep at night. When I think of politicians committing horrible atrocities, or people physically abusing or killing other people, or stealing, being emotionally harmful, rapists, I usually turn to karma for comfort.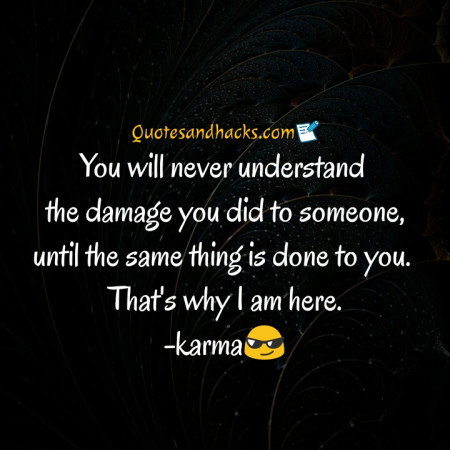 Trusting Your Truth
Whatever you believe is your truth; your truth is your integrity and where your strength comes from. If you waiver from that belief system or cave to someone else's truth, you lose faith in yourself and your world becomes unsteady.
Distancing Yourself
I have found that confrontation can be unfruitful and/or personally damaging. Unfortunately, there are some people you cannot talk to. They are either so righteous they cannot be objective or they do not have the capacity to listen. The art of listening is lost on so many these days. The ability to clear your brain of all static and just hear another person's words is extremely rewarding. Try just staying quiet and listening to another person, it truly is amazing.
[Disclaimer: Not true for everyone. Some people just go on and on and say nothing; others only speak to hear themselves speak, and still others speak only to offend others. These individuals should be avoided and shut down.]
Manifesting Positivity
Some ways to remain positive:
When your thoughts begin to turn negative or move in a dark direction, stop whatever you're doing and focus on a new thought. Not so easy to do when you're in the middle of a crisis. Come up with some sort of code/buzzword that triggers a new thought. It can also be an action (e.g., going into a different room, cook, make the bed). This is a way to distract your mind from negative thought(s).
Exercise. Releasing endorphins and doing something good for yourself usually helps initiate positive thoughts.
If you can, travel. Getting away from your everyday environment helps put you in a different headspace.
Do good deeds and make big deposits in your karma bank. I don't mean just monetary donations (these are good too), I mean get out there and do something good.
Meditation is a true gift anytime, but especially times like this. If you have Alexa (Echo) in your home or a similar device, you can just ask her to play meditation music. You can meditate for hours or minutes — your choice. The benefits are difficult to quantify, but trust me, it will help.
Self-help books or articles may often seem trite and a waste of time; however, there are many good ones out there that will offer some good tips. I also find Ted Talks (Youtube) to be informative.
Talk to a good friend or family member. People who care about you want to help, but be careful not to abuse their good naturedness.
Cooking keeps me positive and upbeat; as does a good meal out. I turn on music, pour a glass of wine, set out some fresh ingredients, and create something delicious and healthy. This does wonders for my piece of mind. And . . . I do it for me. You don't need an excuse to be good to yourself.
Your "Go to" Responses
We are creatures of habit and some of our habits are not-so-good for our health and well-being. For example, when I see people do something really stupid, my go-to response is to tell them what I think. A recent thought: Put on your face mask you fucking idiot. The outcome if I follow through: I have found one of two things might happen:
People who do stupid things, usually have a stupid/unreasonable reaction to criticism or feedback.
You often end-up more frustrated and full of rage.
Look the other way or keep your mouth shut. Trust me, you'll forget all about it in a few minutes and you won't be taking years off of your life. Ignorant, despicable, horrible people, will not suddenly become educated or wiser because of your words or action. Allow karma to take care of the situation. Another alternative is to do the right thing for yourself and stay away from people or situations that might create problems for you. For example: I'm not sure going to a political rally will yield a positive outcome right now. There will be lots of time for that sort of thing sometime in the future. Staying away from crowds is a better bet.
Recruiting Others to Help
I have been know to recruit friends and family to help me react in a more positive way or to assist me in letting go. People who love you and want to see you happy will gladly put a hand over your mouth to muzzle you or handcuff you to a coffee table to keep you from overreacting. A good friend will keep you out of jail or the doghouse.
Resources:
Karma: http://www.buddhanet.net/e-learning/karma.htm
7 Tips for Staying Positive: https://www.psychologytoday.com/us/blog/wise-mind-living/201501/7-tips-staying-positive
Stay Positive: https://www.mhanational.org/stay-positive
Thank you karma.