Be prepared, I get a bit corny.
I have been spending the last few months looking for the perfect quick getaway in the Algarve and I believe I have stumbled upon it. Not that other parts of the Algarve aren't beautiful mind you. Castro Marim is different; it's old world, it's unspoiled, it's an hour door-to-door.
I discovered Castro Marim while surfing Airbnb. I must have rented six or seven apartments or rooms this summer and I wanted to make sure there was nothing out there that I was missing. I've spend more time west of Faro, so I decided I should explore the towns closer to Spain. While looking at Monte Gordo (resort-like) and Vila Real Santo Antonio (at the Portuguese border), I found an Airbnb that was very reasonable on a beekeeper's farm. I have always had a fascination with bees and I'm a big fan of honey. It is almost like wine or olive oil in that it has a very distinct taste depending on where it is harvested. Apparently, there is a good deal of substituting other sugar substances with the real thing, so I'm always searching for local honey I know will be pure.
The train station is a few minutes walk from my apartment in Faro and the train ride was a little less than an hour. I usually have to take an Uber or taxi to my destination, but in this case the directions to the Airbnb looked fairly straight forward from the train station; about a ten minute walk. I opened my phone to look at the directions and I heard my name. It was Jennifer, one of the owners of the Airbnb. I was pleasantly surprised. Jennifer told me that when she saw when I was arriving, she thought it would be easier just to meet me at the station — gotta love that. We walked and talked and I knew I had happened on something special in Castro Marim.
The farm is owned by four friends who have pretty much built it from the ground up over the past five years. I had booked "Ameratasu" The White Room at Phaedra. It was one of the four rooms in a very cool sort of adobe type building with a beautiful courtyard in the center. Honestly, I hate spending all my time taking photos, if you go to the Airbnb site (click), you will see more photos.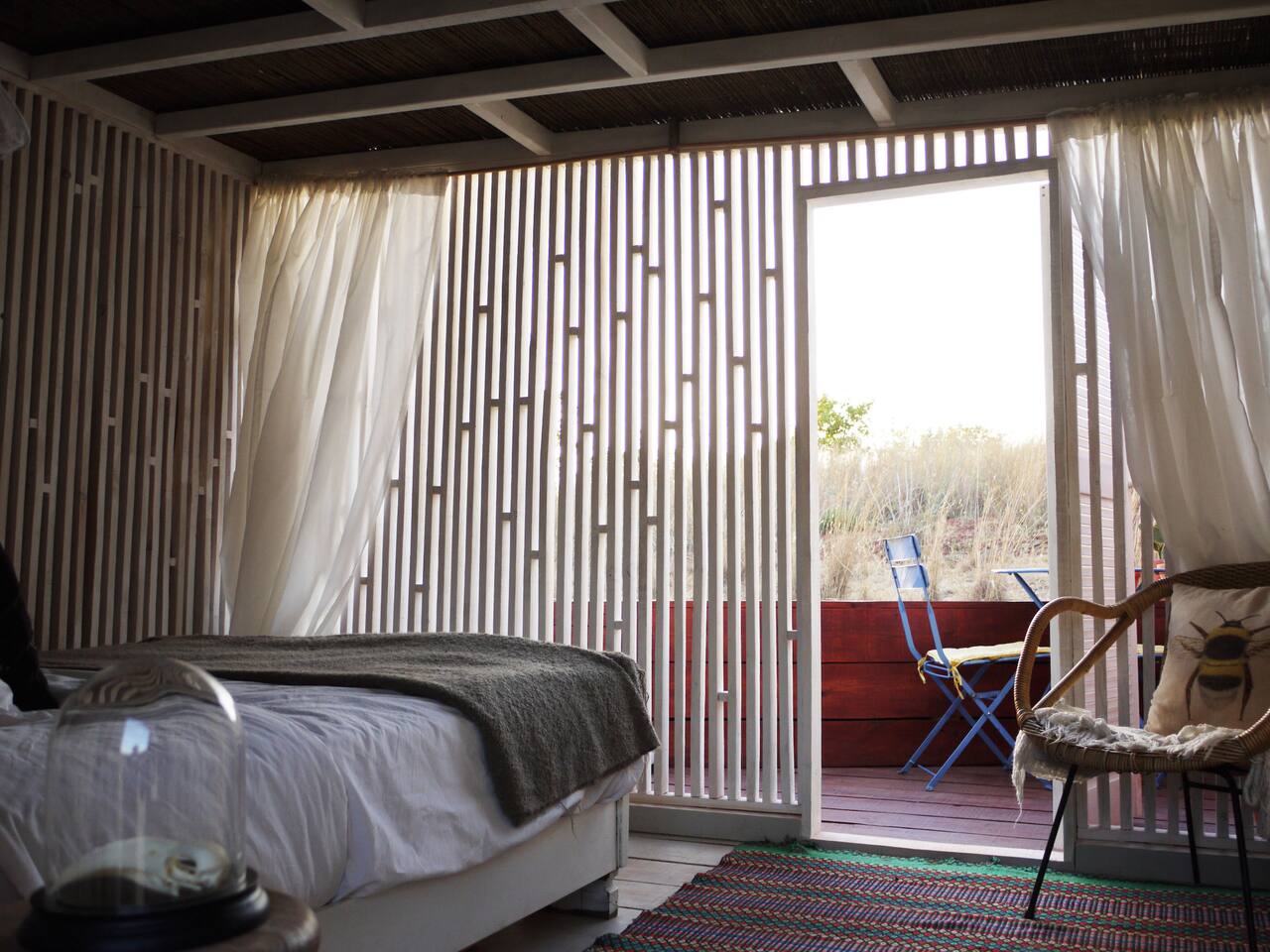 Jennifer graciously showed me the property; swimming pool, vegetable garden, chicken coop, outdoor lounge space, outdoor community kitchen, communal bathroom complete with compost commode (a little sawdust over your poop that's all). It's not for everyone, but it's a step above camping and the price is right.
I asked about dining options and Jennifer told me about my many choices:
Taberna Remexida — only about 100 yards from the property and where I had dinner my first night
São Bartolomeu — the town very close to the Castro Marim train station. It's a tiny town with a couple of traditional Portuguese restaurants — always good and always inexpensive
Praia Verde — nearby beach (see later on in this piece)
Castro Marim centre — I would say it's about seven miles from the property. I had lunch there my second day (more later).
If you have a vehicle, you are also fairly close to Tavira, Monte Gordo, Vila S. Antonio and only about 15 minutes from Spain. Many, many options.
I needed an ATM machine so I biked (bicycle provided by the Airbnb) to Praia Verde to see the beach and the properties near the ocean. It was a hilly 20 minute bike ride. What I found was a pristine beach and lots of amenities. There were shops, a supermarket, a pastry shop, a place to sign-up for water sports, a spa and a very fancy restaurant. Infante Panoramico was right on the ocean and offered a very extensive menu (not cheap by Portuguese standards) of beautiful seafood. I will definitely return to this restaurant for a special occasion. I also want to get a condo by the beach; perhaps next June.
Cash in pocket, I bought some fresh bread for breakfast (Jennifer invited me to get my own fresh eggs from the coop, which I did both mornings), pastel de nata — I like to compare these famous Portuguese pastries, some groceries for the communal kitchen; and cold beer most importantly. My favorite thing about an Airbnb is the ability to make some of your own meals and snacks which can obviously both save you lots of money and keep you away from giant rich meals. I have to show some constraint.
I biked back to the property and took a big dip in a very refreshing pool. There were only two other couples staying at the property and they must have been out touring. I happily had the place to myself.
Staying close to the farm was essential for dinner, so I made a reservation at Taberna Remexida down the road. When you're on foot, on very narrow country roads, it's actually quite dangerous to be out in the dark for obvious reasons. This restaurant was close enough that I could almost see it from the farm. And what a treat it turned out to be. Gigi my Italian waiter made it even more savory.
I finally got to try Sharish Gin as an appetite stimulator. It was wonderfully herbaceous and fresh. I picked some up at the market in Faro yesterday.
Sharish Original Gin Bottling Note
Sharish Gin comes to us all the way from Portugal, and it made with a selection of botanicals grown by the distillers themselves, including oranges, lemons and apples. Other botanicals in the mix include juniper, vanilla, cinnamon, clove, coriander and lemon verbena. Interestingly, the base spirit for Sharish gin is made with a mixture of molasses, rice and wheat!
I moved on to simply prepared local clams and shrimp. So fresh and perfect for a warm evening near the sea. I ended with chorizo which was sauteed in honey; a nice combination of sweet and savory. All accompanied by a perfect white from Alentejo. During my last course, the dining room suddenly erupted in screams and laughter. Three playful puppies charged the dining room and all three came to visit me at my table. They were the last of a recent litter; cute and adoptable. It took everything I had not to snatch one up. I strolled back to camp very satisfied.
A couple of rather large mosquitos accompanied me to bed; admittedly not very desirable, but when you're sleeping half indoors and half outdoors, it's to be expected. I did bring insect repellent, however, I ended up being a day late and a dollar short rubbing it on. No worries, a bit of cortisone topical cream and I was good as new.
Turned out that a 90 degree day turned into a 60 degree night and I had to wrap myself up in a big comforter; provided of course. Eight delicious hours later, I was ready to tackle the day. Two fresh farm eggs, some Spanish ham and toast prepared (by me) in the outdoor kitchen, made for a beautiful start of the day. I watched the sun rise and the cows graze and honestly, I felt more alive than I have in a long time. A very verbal kitty came by to have breakfast with me and she was pleasant company indeed. Now for activities:
Spa Salino, a place where I could enjoy a natural salt bath and a mud application was in Castro Marim about a 35 minute bike ride north. I had never seen salt harvesting and I was certain I would enjoy floating in rich mineral sea water.

After the bath you cover yourself with mud rich in minerals and you can feel it draw all that toxic garbage from your skin.
The entire time I'm soaking in the salt, I'm thinking about two very important things:  First, where am I having lunch? And secondly, how am I going to make that brutal trip back in this 95 degree heat. Since food always reins supreme, I focused on lunch. The owners of the baths told me about a place in Castro Marim that they thought I'd like. I showered off, convinced myself that I was fully rejuvenated and ready to get back on the bicycle, and headed to town. I went straight to what I thought was the restaurant and alas it was closed — it's early September, is tourist season over already?
My second stop was to be the market to purchase provisions for the evening meal. I had decided that if I had a big lunch, it would be nice to eat a light meal that evening in the great outdoors. I found the mercado and bought fresh bread, olives, jamon, and a nice bottle of Portuguese red. At the check out, I asked the cashier if she could recommend a place for lunch. She and the customer behind me, named the same restaurant the guys at the baths had mentioned. I said that it was closed and both ladies gave me a funny look. I got back on the bicycle and thought I'd eat at the first Portuguese restaurant I came across; after all, they're always excellent. Sure enough I found A Tasca Medieval (click for more) and got a nice outdoor table in the shade. I mistakenly had gone to the Taberna Medieval, an easy mistake to make. I had a delightful black pork dish and the best lemon meringue tart I have ever eaten.
I was dreading the bike ride back to the farm; my belly was way too full, it was scorching hot and I was way too relaxed — oh, and my backpack was heavy. Faced with a daunting task, I usually tell myself that it will be good for me:  lies, lies, lies. I got on the bicycle and started pedaling. At some point about 45 minutes in, I realized I'd made a wrong turn. I was wet from sweat, tired and the roads were eerily free of vehicles. I thought that if I'd passed out I would not be found until 2020. Okay, I exaggerate a bit, but truthfully, it was a bit scary. I had been conservative with my phone battery and I willed Google Maps to open. Alas, it all worked out — there was a cut through and I was back on the farm in 15 minutes. I didn't stop to put the food away, I headed straight for the pool, undressed and jumped in. The whole day was extremely surreal because of the absolute quiet everywhere. Minutes later, I met Tom, another one of the property owners, and was thrown back to reality. He was careful not to invade my solitude.
A gin & tonic and a good book, made the afternoon in paradise heavenly.
Tom was cooking his meals for the week when I went to prepare my own snack in the community kitchen Wednesday evening. It was nice to hear his story; a young man in his early thirties, living his dream . . . sort of. The combination of Portuguese cheeses, jamon, olives, and that delicious red, were the perfect way to end a very adventurous day — I was sated and proud of myself for making it happen. I spied what Tom was cooking and I was grateful for my meal.
Early to bed, not quite as cool as the night before, but pleasant. As usual, I was up before the sun and made coffee under the stars. I sat quietly listening to the roosters and watching the sun start a new day. Many things crossed my mind on that glorious morning, but mostly I just smiled and took it all in.
An hour later I was on the short train ride home contemplating a place close to home to escape the day-to-day and remind myself of all that I am grateful for.