"Apparently Brooklyn needn't always push itself to be something else, something conscious and anxious, something pointed toward Manhattan…. Brooklyn might sometimes also be pleased, as here on Flatbush, to be its grubby, enduring self."
―
The Fortress of Solitude
Have you ever been in the audience at a concert or comedy club or anywhere and the person on stage mentions Brooklyn and there will almost always be someone or more than one person in the audience who screams and shouts (loudly)? People who were born in Brooklyn or live in Brooklyn are filled with pride; some say it borders on obnoxious behaviors. Actually, people who come from Brooklyn believe they have supernatural powers.
I would know, because I was born and raised in Brooklyn and I too have supernatural powers. My boyish charm and charisma are proof of my powers, no? Okay, okay, I digress. But honestly folks, there is something about Brooklyn that makes one believe he or she is really special. How else would you explain Barbra Streisand (click), Jay Z, Woody Allen, Joy Behar, and on and on (click for long list)?
The Brooklyn of My Youth
Coney Island — I was born in Coney Island. It was of course very different back then. There was Steeplechase Park (click), an amusement park that was probably responsible for putting Coney Island on the map. It closed when I was a little boy; however, I have fond memories of the fun houses and rides. There truly was nothing like it in the world. The Amusement Park that is still operating today took its place and although it is not Steeplechase, it's a great place to bring the kids. My dad immigrated from Italy and moved to Coney Island as a young man. He was a member of a social club and he knew most of the ride owners. I would go straight from school to the amusement park and ride the Cyclone for hours without having to pay. My mother worked at the snack bar at Coney Island hospital where she gave birth to several of my siblings. For some reason, I was born at a different hospital — probably her doctor; I never asked. My mother's mother was born in Russia — so you see where all my problems originated.
The Streets — the streets of Brooklyn were safe back then. Parents would not have thought twice about allowing their children to play stickball in the streets. I pretty certain this is a practice of the past.
Restaurants — Because Brooklyn had over 2.5 million residents from all over the world (see below), 50 years ago you could find really good Italian, Russian, Chinese and other ethnic foods. And then of course there was Nathans hot dogs — I still crave these crunchy dogs today. You can get them in many different places (franchise), but to get truly have the Nathan's experience you have to go to Coney Island. The fries and the Little Neck clams were also memorable.
Confidence versus attitude (arrogance) — many people accuse Brooklynite's of being over-confident. I would argue that a healthy self-esteem is a good thing. Perhaps there are Brooklynite's with an attitude, but these kind of people live everywhere. The pride one feels about coming from Brooklyn has a great deal to do with the richness of the culture, the diversity, the many great things that have come out of Brooklyn and Brooklyn's historical resistance to living in the shadow of Manhattan. Brooklyn has always had its own identity and boatloads of things to be proud of.
Welcome Back Kotter (click) — was a very successful television comedy series in the 70s. A photograph of my high school, New Utrecht High School, was shown at the beginning and the end of every episode. I didn't especially appreciate the notion of Sweat Hogs (a whole class of not-very-bright teenagers), but I did relate to a good deal of the show.
The Brooklyn Museum, the Brooklyn Public Library, the Farmer's Market, Prospect Park, the Brooklyn Botanical Gardens, the beaches — it took me so long to discover how rich in culture Brooklyn truly is. We took school trips to all of these magnificent places and I took it all for granted. I assume I absorbed some of it, but it was not until I moved to North Carolina that I realized what I had been exposed to as a child.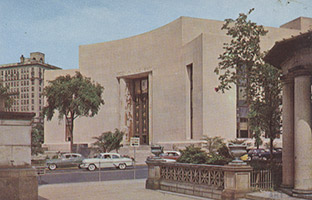 Ground was broken for a Brooklyn central library on Prospect Park Plaza (Grand Army Plaza) in 1912. The design of the original architect Raymond Almirall called for a domed, four-story Beaux Arts building, similar in style to the nearby Brooklyn Museum. Escalating costs and political in-fighting helped slow construction throughout the decade. World War I and the Great Depression ensured that Almirall's building, whose Flatbush Avenue wing had been completed by 1929, would never be built. In the 1930s, the architects Githens and Keally were commissioned to redesign the building, eliminating all the expensive ornamentation and the entire fourth floor. After much public and critical praise for the comparatively inexpensive Art Deco structure, construction recommenced in 1938. Almirall's building on Flatbush Avenue was largely demolished except for the frame. (Some of the original facade that faces in toward the library's parking lot is still visible.) Completed by late 1940, the Central Library opened to the public on February 1, 1941. It is regarded today as one of America's greatest Art Deco buildings (Wikipedia).
Prospect Park
The 585-acre green heart of Brooklyn, is arguably the best park in New York City? Even its famed designers, Frederick Law Olmsted and Calvert B.Vaux, considered it their masterpiece (more fun Wikipedia facts). But Central Park in Manhattan casts a very large shadow over Prospect Park; doesn't matter it was my playground as a child. We lived only a few blocks away and the sleigh riding in winter was awesome.
The Framer's Market
There is so much about Brooklyn that I can opine about and I would bore you and sound boastful, so I'll only mention one more magical place: there are many farmer's markets in Brooklyn; however, none are quite as vast as the market at Grand Army Plaza, Prospect Park. From Grow NYC:
"Founded in 1989, Grand Army Plaza is Greenmarket's flagship Brooklyn market, and the second largest market in the program, behind Union Square. Located at the northwest entrance to beautiful Prospect Park— and just steps from the Brooklyn Public Library, the Brooklyn Museum, and the Brooklyn Botanic Garden. This community destination brings together a mix of shoppers from the nearby neighborhoods of Park Slope, Prospect Heights, Crown Heights, and beyond. Runners, dog-walkers, families, singles and foodies all converge to buy from the huge array of farm fresh products, and to participate in the programming and cooking demonstrations that take place every Saturday all year-long."
My apartment was one block away (5 minute walk) from the market in North Park Slope. I would wake up at my usual 5:15 a.m. (except when I went clubbing), have my coffee on my terrace (which faced the park — couldn't see the park through the trees) and then walk over to my market to buy greens for the week. I never bought bread because I got the most amazing bread free from The French Culinary Institute bread kitchen. Well, it wasn't really free because I worked my tooshie off for it.
The Landscape (Demographics)
| Year | Inhabitants |
| --- | --- |
| 1731 | 2,150 |
| 1756 | 2,707 |
| 1771 | 3,623 |
| 1786 | 3,966 |
| 1790 | 4,549 |
| 1800 | 5,740 |
| 1810 | 8,303 |
| 1820 | 11,187 |
| 1830 | 20,535 |
| 1840 | 47,613 |
| 1850 | 138,822 |
| 1860 | 279,122 |
| 1870 | 419,921 |
| 1880 | 599,495 |

Year
Inhabitants
1731
2,150
1756
2,707
1771
3,623
1786
3,966
1790
4,549
1800
5,740
1810
8,303
1820
11,187
1830
20,535
1840
47,613
1850
138,822
1860
279,122
1870
419,921
1880
599,495

| Year | Inhabitants |
| --- | --- |
| 1890 | 838,547 |
| 1900 | 1,166,582 |
| 1910 | 1,634,351 |
| 1920 | 2,018,356 |
| 1930 | 2,560,401 |
| 1940 | 2,698,285 |
| 1950 | 2,738,175 |
| 1960 | 2,627,319 |
| 1970 | 2,602,012 |
| 1980 | 2,230,936 |
| 1990 | 2,300,664 |
| 2000 | 2,465,326 |
| 2010 | 2,504,710 |
| 2015 | 2,636,735 |

Year
Inhabitants
1890
838,547
1900
1,166,582
1910
1,634,351
1920
2,018,356
1930
2,560,401
1940
2,698,285
1950
2,738,175
1960
2,627,319
1970
2,602,012
1980
2,230,936
1990
2,300,664
2000
2,465,326
2010
2,504,710
2015
2,636,735
Year
Inhabitants
1731
2,150
1756
2,707
1771
3,623
1786
3,966
1790
4,549
1800
5,740
1810
8,303
1820
11,187
1830
20,535
1840
47,613
1850
138,822
1860
279,122
1870
419,921
1880
599,495
Year
Inhabitants
1890
838,547
1900
1,166,582
1910
1,634,351
1920
2,018,356
1930
2,560,401
1940
2,698,285
1950
2,738,175
1960
2,627,319
1970
2,602,012
1980
2,230,936
1990
2,300,664
2000
2,465,326
2010
2,504,710
2015
2,636,735
Neighborhoods
Brooklyn, like many other cities, is divided up into many neighborhoods. Each has its own identity and culture. I spent a lot of time exploring before purchasing my very first apartment. I didn't have very much money at the time, but I begged, borrowed, and sold my life insurance policy for a $9,000 down payment. Park Slope was one of the most beautiful areas I had ever visited and prior to a colleague showing it to me, I had no idea it existed. I was very fortunate to find a tiny one bedroom with a fireplace and terrace just one block from Prospect Park and only a few blocks from the subway. It was a four floor walk-up in a beautiful 1880s brownstone. While I was living there the economy improved and Brooklyn as a brand, took off. I took advantage of the boom and sold my place to upgrade to a two bedroom in a dicey section of Fort Greene I knew would become more desirable; after all, Manhattan's desirable housing inventory was expensive and not easy to come by. the downtown Brooklyn Fort Greene area was right next to the Brooklyn and Manhattan Bridges with amazing views of Manhattan and easy access to the city — it seemed like a good move. All of these real estate decisions were fairly impulsive. I keep telling myself that I must have been thinking about the economy and the times, but I can't recall when that thinking might have taken place. It was certainly not happening at work or at the clubs. Perhaps I just got lucky.
Brooklyn has been good to me my entire life and I consider it my home. I will return to my roots for the rest of my life and I will never take Brooklyn for granted.
Diversity
Without going into specifics about the enormous diversity that has always existed in Brooklyn, let's just say that living side-by-side with individuals from all over the world teaches a child a great deal about similarities and differences among individuals. I recall racial tension in Brooklyn around the issue of busing kids from one neighborhood to the other. It wasn't pretty; there were walkouts and boycotts and a lot of angry people, but in due time it was sorted out. After awhile, people learned how to be with one another. I am certain that racism and religious bias continues to exist in Brooklyn; however, I am also certain that there have always been progressive individuals who were and are willing to do the work that needs to be done. As a child, I lived on a street with Italians, Hasidic Jews, Reformed Jews, Chinese, Irish, Greeks, and I'm certain, other nationalities. We held an annual block party where nearly every family put out food and danced in the street; it was honestly an international festival.
I believe that people from all over the world are moving to Brooklyn partly because they know that they will be embraced and provided with opportunities to earn a living and live their dream. I know this sounds "pie in the sky," but I truly believe my thoughts have merit.
Why Brooklyn is Celebrated Everywhere
When I travel and meet new people, the first question is always, "Where are you from?" I was always proud to say, Brooklyn, New York. The reaction I got 20 years ago, even ten years ago, is not the reaction I get today. Today, people say, "Really, I want to go there." For a Brooklynite, this is music to my ears. Of course you want to go there, it's like going to Venice, except that there are no canals (that's not entirely true) and/or stunning architecture (of course some will dispute this as well).
Brooklyn Today
I have to be very careful here. If I say anything disparaging about Brooklyn, they'll come to Portugal to hunt me down. It's easy to look back at the past and say things like: things were different back then; it was safer and it was a more innocent time. Every generation perceives their particular generation to be smarter, innocent, and more fortunate.
I left Brooklyn to Move to Manhattan because I took a position at NYU that included housing. When it was time for me to purchase an apartment, I realized I could get more for my money there and it was before it became trendy to own or live there. In Brooklyn I could own a car and park on the street, drive to restaurants, drive into Manhattan or the other boroughs and eat at ethnic restaurants offering world-class cuisine. Again, to be sure, I had no idea what I had when I had it. I will always be grateful for the Brooklyn of my youth.