Or as my friend David describes it: The Venice of the North
Ten years ago, a friend of mine and I rented a car and drove from Oslo to Copenhagen. Having spent just one night in Stockholm, it seemed like the right time for a longer visit. The country has had relaxed COVID-19 restrictions from the beginning of the pandemic and since I am vaccinated and an expert at social distancing, I booked the trip hoping it would not be one of the ones to be cancelled (I've had 10 or more cancelled holidays since March 2020).
The principle reason for this trip: I was invited to a gin tasting party in Vilamoura, Portugal shortly after moving to Faro. It was one of my first events as a retiree and I felt like a kid on his first day of school. If I am to be honest, it was a big trip to make just to taste some gin. But . . . there is a reason they say, "You never know what the day will bring." At the end of the tasting I met a Swedish couple who had only moved to Portugal two weeks after me. Unlike the others at the tasting they were warm and welcoming; we became fast friends. They are the reason I visited Stockholm and Kälholmen island. I was invited over two years ago. The pandemic kept me away for awhile, but not forever.
I scheduled a few days in Stockholm prior to taking the trip to their island paradise.
During the first few days of my trip I was blessed with magnificent clear skies and temperate sunshine. One of the nice things about going to Sweden in the summer, is the almost springlike weather.
Three Very Different Overnight Accomodations
An airbnb in Östermalm — My small studio was in a beautiful neighborhood filled will parks, eateries, and waterways. It was about a 30 minute walk to the Old Town and other sights. It was billed as a writer's studio because it was on the top floor and had a skylight and writing desk. It was everything I love about Airbnbs; quiet, away from tourists, and affordable. I did not meet the host — it was perfect.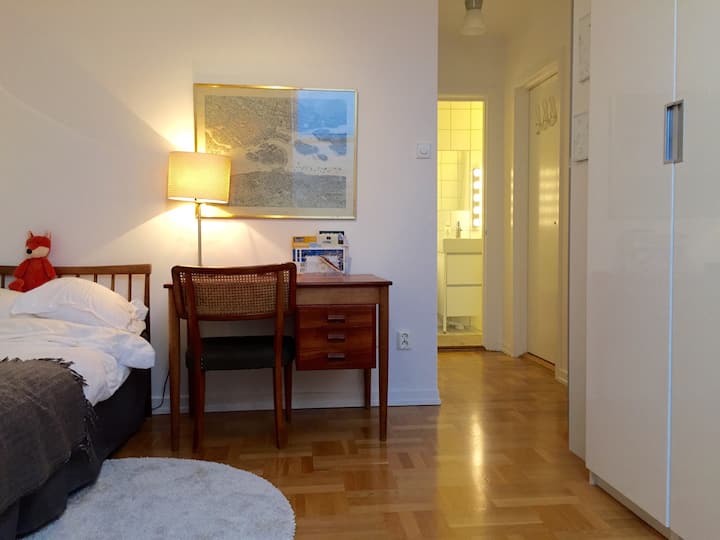 2. Källholmen Island — 2.5 hours from Stockholm by ferry. My friend's cozy cottage; surrounded by water and nature, no running water and bathing in the Baltic Sea. The Swedes prefer and enjoy island living in the summer and Sweden has thousands of beautiful islands, small and large.
A bit fancier and a nice way to end my stay in Stockholm. Strange name perhaps, but this boutique hotel was far from strange. Beautifully designed, new, and a bit trendy. The bed was fantastic and that makes me very happy. Odd to have down comforters in August, but heck, it's Sweden so I just opened the window. An excellent gym helped with some of the guilt from this trip. Breakfast was included and it was one of the best buffets I have experienced.
Eating in Stockholm
I was impressed with the restaurant options in Stockholm; every type of cuisine I love was available. The Algarve does not have a Korean restaurant, making Korean a must. There were many Korean restaurants in Stockholm, some right near my hotel. Even my hotel's rooftop restaurant had Korean food on the menu. I thought about going out for Italian food, but Asian won out again. I also indulged in Thai and Vietnamese cuisine.
My new friends took me out for dinner at this beautiful, authentic Swedish restaurant, located in a beautiful park minutes from Stockholm's center.
"At Ulla Winbladh you can enjoy authentic Swedish food crafts in a historic environment. Here we serve home-cooked food as it should always be, that is: a purely mind-expanding experience.
The inn Ulla Winbladh, whose name takes its inspiration from the national poet Bellman's muse, is well known for its high-class Swedish food tradition. The inn in 1897 is something as unusual as a popular concept restaurant.
The building in which Wärdshuset Ulla Winbladh is housed was originally built for the Stockholm Art and Industry Exhibition in 1897 by the architect Gustav Wickman. From the beginning, the facilities housed an ultra-modern steam bakery at the time and was then called Reinholds Ångbageri. Later, the business became a patisserie where, among other things, waffles with whipped cream and jam were served. When the patisserie was transformed into a restaurant in the mid-50s, the name was changed to Wärdshuset Ulla Winbladh. The name comes from Bellman's most famous mistress and muse who in reality was named Maria Kristina Källström. In the 18th century, it was common to go out and have fun at Djurgården, something that Bellman and his girlfriends often indulged in.
In 1992, the restaurateur, cookbook author and food columnist Nils Emil Ahlin took over the inn and created the Ulla Winbladh we know today. Since 2004, Wärdshuset Ulla Winbladh has been owned by Stockholms Restauranger & Wärdshus, which works to manage the Swedish food heritage. The ambition is to nurture and develop the atmosphere and history that the inn in 1897 holds and of course – the Swedish taste traditions.
Guide Michelin has now presented which restaurants in the Nordic region will receive the world's most prestigious restaurant award this year. At the press conference, the 2020 Michelin stars and recipients of the Bib Gourmand award were announced. The latter award – Bib Gourmand – indicates a restaurant that serves "well-cooked food at a reasonable price". We humbly thank you for keeping our Bib for the thirteenth year in a row! Last year, Ulla WI nbladh broke a record as the restaurant in Sweden that kept its Bib Gourmand for the longest period." Restaurant website
This dining experience was a real treat. The outdoor eating area made for a very pleasant evening. The crayfish, cheese pie, and creamy chanterelle mushrooms were highlights.
Museum
Millesgarden Sculpture Park is located outside the city. Milles' home and studios are on the grounds and you get to tour the house and gardens. The restaurant on site was terrific. You get a spectacular view of Stockholm from the gardens.
"Personally Milles loved and wished to evoke at Millesgarden the gardens of Italy's Mediterranean coast. In the newly-built loggia, the Little Studio designed by Evert Milles, Carl commissioned a fresco painting of the bay of Naples with acan­thus and cactus in the foreground and olive and wheat being farmed in the distance."
There were many fantastic parks in and around Stockholm, making walking for hours a pleasure.
Transportation in and Around the City
I took a taxi into the city after landing; it was about 65 Euros and at midnight, worth every penny. Travel weary and punchy, there were no Ubers available. A train goes into and out of the center for about 12 Euros; that's how I returned to the airport — it's about a 40 minute ride.
Stockholm has a very clean and efficient subway and light rail system. I used my ATM to buy tickets and frankly, didn't even look at the cost of a ride. I believe it's under four euros; not cheap, but it gets you there quickly. I did not use the bus or tram system, but I noticed the buses were all new. I was told that there is only one tram line left in the city. I did use Uber a few times and found it to be pretty quick and reasonable.
One Unexpected Memory
My friend David lived and studied in Stockholm many years ago. He met a gay couple while he was there and they have stayed in touch. David suggested that I meet them and doing so was one of the highlights of my trip. Claes and Nils have been together for over 30 years (I think that's correct). We enjoyed a couple of excellent meals together and I got see their lovely home. They were warm, gracious and gave me hope for finding lasting love.
Overall Impressions
First and foremost, Sweden is one of the most beautiful places I have ever been — in or outside of the city. Almost everyone speaks English. The Swedes are warm and welcoming. I hope no one minds that I add that they are also very attractive. The closer you get to the city centre, the more diversity you see. There is no shortage of culture and attractions. The architecture is breathtaking and unique. The Swedes have a talent for design; you see that everywhere, in everything. Whether it's old and stately or modern and sleek, it's easy to get lost in the beauty of it all. I was struck by how much green there is everywhere; nature takes a front seat and has not been overlooked or forgotten. Sweden has embraced technology; therefore, using cash is impossible in most places. This is not the case in Portugal and took some getting used to. I'm sure the world is headed in this direction. I understand that germs and bacteria are abundant on cash.
You're not really supposed to like ABBA in Sweden. It's nerdy.
— Izabella Scorupco
Marriage is not common in Sweden.
— Eva Gabrielsson
COVID-19 and Travel
I'm not going to spend a great deal of time writing about the pandemic in Sweden and traveling there from Portugal. I will say two things: First, I did not see a lot of mask wearing and there was no mandate to do so, and second, because it is an EU country, the only restriction for travel was that you had to be either vaccinated or tested. I was pleasantly surprised with both.
Future Travel
Lyon, France in mid-September
London for theatre in October
The Eastern Algarve in November
Christmas in Faro with friends
Hong Kong, Cambodia, Vietnam, Thailand, and Singapore in January '22 (includes a cruise) — my flight has already been cancelled making this trip a big maybe (my second attempt)
Cuba February '22
Toulouse, France April '22
Basel, Switzerland June '22
Colorado, USA September '22
Northern Europe Norwegian Line Cruise October '22
If Paco's caretaker allows me to go, there will be additional travel in between.