Friends were visiting from the States and it was their first trip to Europe. Over the past few months we have spoken about what we might do together during their time in Portugal. It probably would have been enough for them to stay local, however, it wouldn't have been enough for me. I wanted them to fall in love with my country and that meant seeing the country that borders Portugal to the east. We decided on two days in Sevilla (two hours by bus — see blog from 2019) and two days in Córdoba. Why Córdoba you might ask?
Not too long ago I made a decision that has proven to enhance my life and make for a better experience for my guests. Whenever friends or family visit me from the States (or anywhere for that matter), we go someplace I have never been. If I keep going back to the same towns and cities, I will resent my guests and be bored to death. Don't get me wrong, there are places I love to visit over and over again:  for example Tavira, a town about 30 minutes away from where I live — a French bakery, La Baguette Artisan Boulanger Français, and a pottery shop, Aroma Ceramics. These two places alone make Tavira worth a visit. There are also several restaurants I never tire of. My guests are rarely disappointed; of course, that makes me happy.
So Michelle, John and I did some touring around Faro first. They arrived New Year's Eve day. To my surprise, the long journey from New York to Faro did not stop them from wanting to explore and sample the food of Faro.  I cooked, certain that they'd want to remain home to rest. The idea of staying up to bring in the new year seemed out of the question. I was shocked to see that they were perky and eager to stay awake and enjoy their first New Year's celebration in Europe.
They dragged me kicking and screaming to the Faro marina where a lively band played and a fireworks display did not disappoint. I was surprised to see a few thousand locals enjoying the night together.
Being the morning person that I am, I'm not sure how I managed to stay up for the count. I spent last New Year's eve in Morocco with friends and I still can't remember whether or not we brought in the new year together. I'll have to call Patrick and Sue to ask them.
Back to Michelle and John . . . After a few days staying close to home, we headed for Spain. I won't be blogging about Seville because I have been there several times and although I love the city, I do not have much to say this time. I will mention that it was colder there than I thought it would be (close to freezing at night) and that Airbnb Adventures offered a paella rooftop experience that was outstanding. We had a challenging time leaving our Airbnb to get to the rooftop location. Our key got stuck in the door and we had to figure out a way to leave the key in the door, leave the door open and escape through another opening. I'm not sure why these things happen to me, but I'm beginning to wonder if I bring them on myself. No matter, we got out safely, made it to our dinner on time, and dealt with the lock issue later in the evening. I must admit I was a bit cranky, but my friends know how I am and put up with me.
Córdoba
The first thing I want to say about Córdoba is that everyone should visit this magnificent city. It has a rich history, it is walkable, it is breathtakingly beautiful, and it is very affordable.
We took a bus from Sevilla to Córdoba. It is an easy and comfortable two hour ride at about 24 euros round trip. The bus takes you to the city centre and then you can either walk or Uber to your destination. Google maps showed that we were about 23 minutes from our Airbnb by foot, so we decided to walk. Technology is only great when it works and this time it did not; we were taken about 1.5 kilometers from our Airbnb and I had to find another means of getting there. About 10 minutes later and none the worse for the wear, we arrived at our Airbnb. This two bedroom, two bath apartment was on four levels. We had a cozy living room and kitchen on the first floor, a bedroom and bath on the second and third floors, and a rooftop terrace on the forth. Honestly at $217 for two nights (all total), I think the place was a find (click for listing).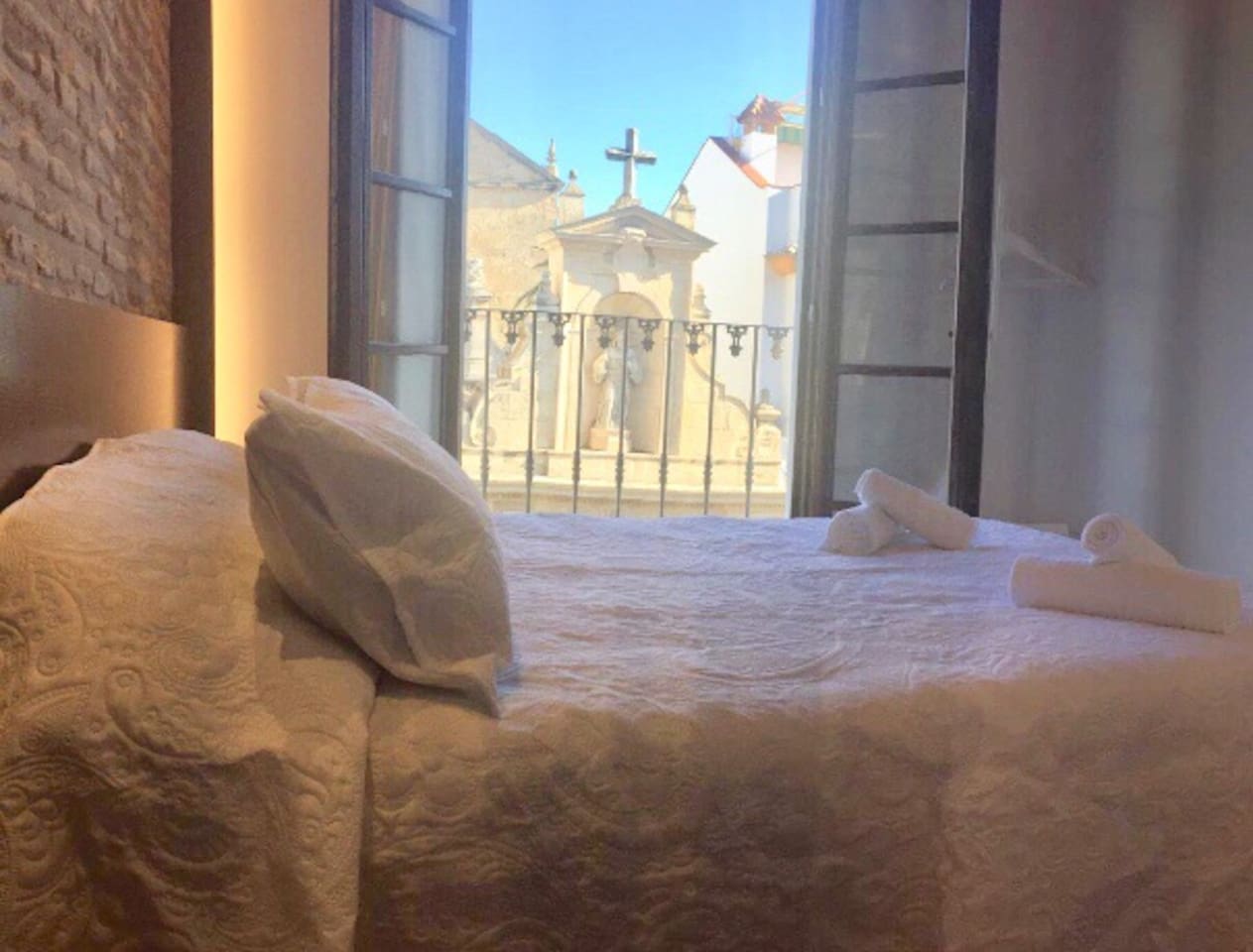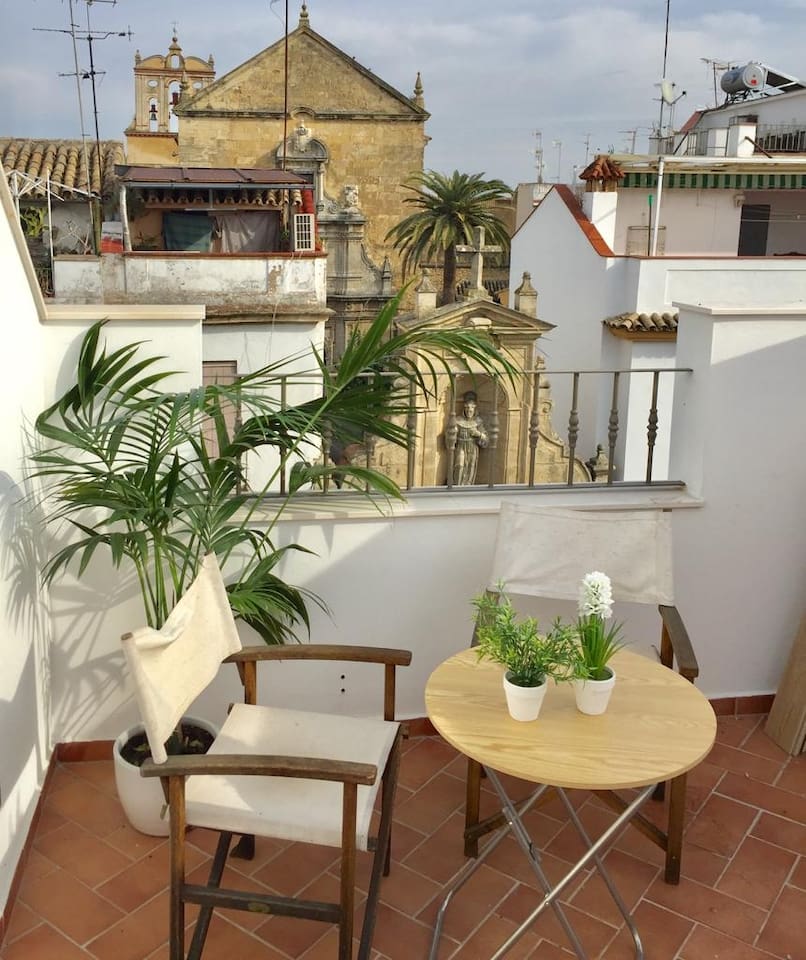 That stoned wall you see in the first picture is actually the original wall built by the ancient Romans — it is the wall that borders the Jewish Quarter and built in the first century; how's that for experiencing history.
I will once again reiterate that I am not a travel writer, therefore, I will not share the history of this beautiful city or everything we did while visiting. There were some highlights in our 2.3 days in Córdoba and I am happy to share those with you. Part of the reason travel is so much fun for me, is that I do not chronicle every moment. I am happy to pass along details to any of you, please ask.
Staying in the centre of Córdoba, in the heart of the Jewish Quarter, was a good call. We were minutes from everything you'd want to see and experience while visiting. Arriving on a Sunday made it somewhat difficult to shop for groceries (eg., coffee, milk, wine), but with perseverance, we did find a Chinese all-in-one shop. To our pleasant surprise, the shop even had an Iberian paté we all three thoroughly enjoyed. We were also smart enough to bring some cheese, jamon and crackers from Sevilla. We were hell bent on enjoying our rooftop terrace while the sun was shining and we could experience the tiny bit of warmth we had left. It was all glorious:  our friendship (over 20 years), the view from our terrace, the historical significance of the place, the sun, and the fact that we'd made it there. These are the moments in life we live for.
We had tickets for a genuine Flamenco concert — music and dance — that evening and we were priming for it. We had dinner at a beautiful tapas restaurant close to our Airbnb. It wasn't the best meal I've had, but I certainly enjoyed the atmosphere and the Spanish wine John selected. The Flamenco concert,  was to be performed within the Arab baths of Santa María dating over one thousand years.
The concert was about 90 minutes in length, the performers were all sick with a cold (except the guitar player), and we had front row seats (there were only 9 people in the audience). I have often wondered if I would enjoy a Flamenco concert and it would be unfair not to comment:  I will say that first of all, I'm glad we did it and second, I would not do it again. I might also add that John caught whatever germs were spread that night.
The next day was very special and truly unforgettable. It would be our only full day in Córdoba and I was determined to make the most of it. I woke up early and went straight to The Mosque-Cathedral of Córdoba (Mezquita-Catedral de Córdoba).
If you do nothing else in Córdoba, you must visit this significant landmark. It dates back to the 12th century and it is Islamic, Roman, Byzantine, and Christian, all rolled into one truly magnificent place of worship. You can spend hours and hours exploring this historic site. Afterwards, I ventured out to see the city by day.
The Roman Bridge may have been my second favorite site.
The bridge flows over the Guadalquivir river; grand and gorgeous is all I can say about it (last photo from stock pics on the internet).
After a bit of lunch back at the Airbnb, I walked about three minutes to a hammam where I had an appointment for a warm bath, a sauna and steam, and a massage. The Hammam Al Andalus, is one of the most beautiful I have ever been to and worth every euro I paid (70).
I returned to our Airbnb just in time for a pre-dinner cocktail. We had reservations at Casa Mazal Restaurante Sefardi; Middle Eastern, Jewish, Spanish and very authentic. We did the tasting menu and once again John chose the wine — I can pick a good wine, but John knows wine better than I do. The restaurant was quaint and the service excellent. I would have to say that I enjoyed the appetizers far more than the main dishes, but overall, this restaurant did not disappoint. My friends usually claim that they will only take a small taste of dessert and more often, eat at least their share; I'm used to that.
It was an unusually chilly night is Spain, so we hustled back to our apartment and headed straight for bed; very comfortable beds I might add.
Córdoba is a place I will someday return to. I could have spent a week walking, exploring, eating and drinking. It's only four hours for me by bus (3.5 hours by car) and I know there was more to experience. The history and the melding of so many cultures over the last two thousand years, makes Córdoba a city to behold and cherish. It's Unesco World Heritage Centre will be forever etched in my travel memories.
Paco
This is Paco, my new companion. Paco is a rescue dog; I will be officially introducing him to you next week. The importance of adopting a pet, rather than purchasing one, has been an urgent message I have been wanting to relay for quite some time.